Shipping Solutions
Each customer is as unique as the plants they buy. Some customers need large, cross-country (or International) shipping options, some only need a few flats to travel a state away. HCF offers multiple solutions to meet every customer's need:
Air Cargo– A nice option for those packages traveling thousands of miles.
FedEx Express– Great if you need 1 or 2 boxes to your door, this is the plan. (We can even send FedEx internationally!)
FedEx Freight-Best choice if you have 20 trays or more, paying by the pound for palletized shipping is the way to go! Want to send an entire pallet across the country in 2-3 days? No problem!
Your Truck-There are no additional fees for customer pickups! (Boxing charges may apply.)
International Options- We can ship anywhere, any method
Palletized Shipments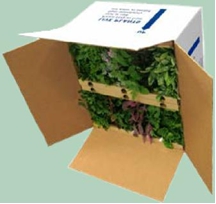 Our New Pallet shipping option has many advantages:
Better Handling: pallets are not sent down high speed conveyor belts.
Product Priority: cargo will not be bumped for passengers.
Better Quality: Plants are able to have air flow, which reduces risk of damage from being packed in boxes.
Less Cost: shipping in bulk reduces freight and cardboard costs.
Easier Delivery: Pallets leave our dock and arrive at yours.
Mix & Match: Our pallet boxes are designed to handle both liner trays and pre-finished material.
Standard Boxing
Our shipping box has an innovative design that holds the flats tighter than others. This keeps the plants from slipping and tumbling which decreases the chance of damage.
The dimensions of our box make it more likely to stay upright during shipping while simultaneously giving a smaller dimensional weight, thereby reducing costs.
Liner Box: 24"x22"x12", approx weight is 30lbs. Holds up to 4 liner trays. You may mix and match between 50-, 72-, & 105-cell flats.
Pre-finish box: 24"x20"x10", approx weight is 20lbs. Holds thirty 4" pots or 2 trays.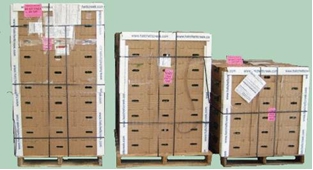 There is an additional charge per box for winterizing. Pallet packaging carries a per flat charge (Liner & Pre-finish) unless standard boxing is requested or required.
If you need more information on or have questions about your shipping options,
please contact our office as our fast and friendly staff will be happy to help.