Availability
Plants are listed as total number of plants avail.
Tray sizes are noted on each line.
Our current availability can be found in the links below.
Avail Updated on 1/18/18, week 4, 1/22/18 ship date.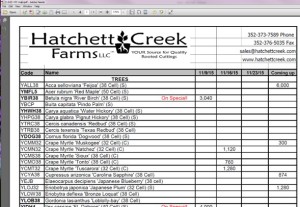 If you do not see what you are looking for please email us at sales@hatchettcreek.com for production times.  Let us know what you need or would like us to grow for you; the majority of our products do not require a deposit or cancellation fees.  We would love to hear from you!